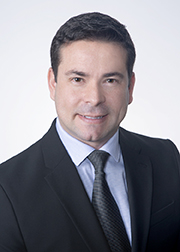 Cesar Gonzalez
Risk & Insurance Consultant
Cesar Gonzalez is a Risk and Insurance consultant with Wilson, Washburn and Forster Insurance. For several years he has been assisting commercial businesses in industries such as manufacturing, distribution, service organizations such as HVAC companies, and non-profits with their insurance needs. He has many years of experience in handling the concerns of business owners, and works closely with each of his clients to ensure that companies are properly protecting their investments, products, and people. His goal is always to deliver the perfect solution for his clients.
Prior to his current position, Cesar spent over 12 years working for ADP as a Human Capital Management consultant and health benefits advisor. His experience in the insurance side of that business provided him with a base of knowledge for his industry. Through his wide network developed over 12 years of living in South Florida, Cesar can also provide his clients with unparalleled access to various resources as a trusted consultant.
Cesar earned his Masters in Business Administration from Western Kentucky University and his degree in International Commerce from Jorge Tadeo Lozano University in Colombia. In his spare time, Cesar volunteers to coach soccer for kids in his community and plays the game himself. He also enjoys reading, cooking, and spending time with his family. He is bilingual in English and Spanish.